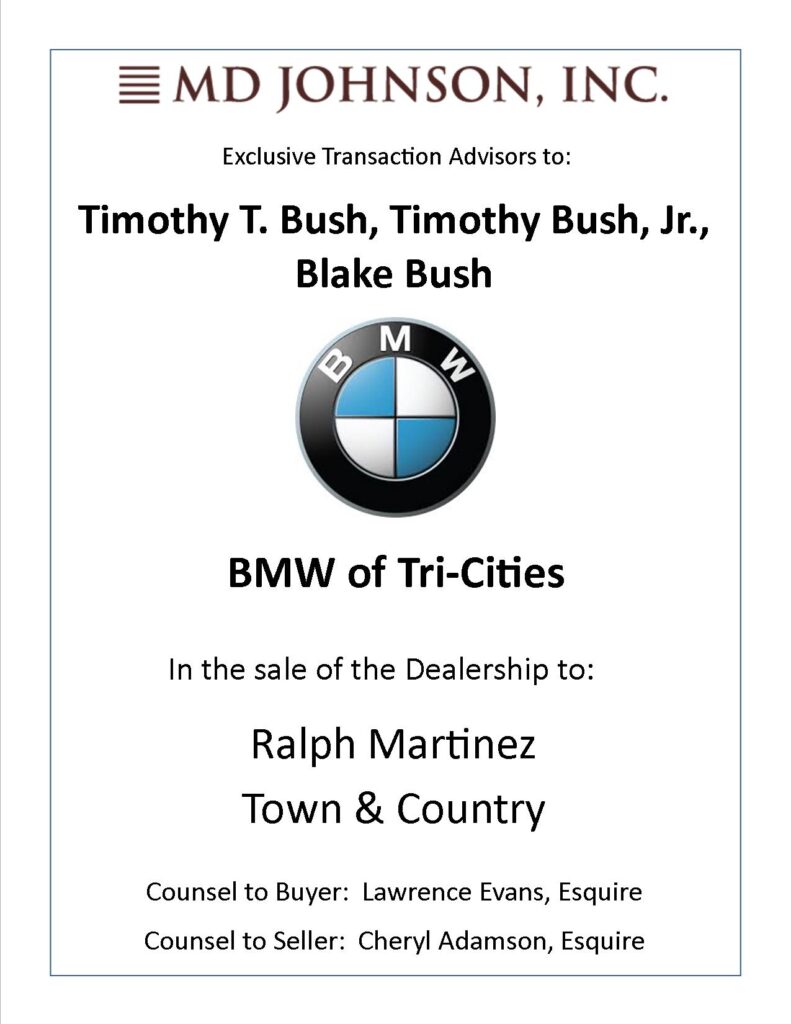 MD Johnson, Inc. is Mark Johnson and Mark
Topping executed the transaction on behalf of Bush Mark Johnson, President MD
Johnson Inc is pleased to congratulate Tim Bush and Ralph Martinez on the completion of the sale of BMW of Tri-Cities to Mr. Martinez . The dealership will remain named BMW of Tri-Cities. Christopher Martinez, son of Ralph Martinez has been named general manager. No sales price was disclosed. The dealership will remain in its current new state-of-the-art BMW facility off of I82 and Aaron road. The real estate, also acquired by Martinez was acquired in a separate transaction from Bush. The closing of the transaction occurred after required and customary approvals by BMW. Bush purchased the dealership from long-time Yakima auto dealer Dick Hahn of Hahn Motor Company. MD Johnson Inc represented Mr. Hahn in the sale to Tim Bush. Bush relocated the dealership to suburban Richland WA. Prior to Bushs' relocation, the Tri-Cities had not had a BMW dealer for over 20 years.
Bush, a well-known auto dealer and real estate developer had previously owned the Suzuki franchise in the Tri-Cities along with his separate pre-owned vehicle business. Mark Topping was the transaction manager for MD Johnson Inc in the sale of the dealership to Martinez. Mark Johnson, President of MD Johnson Inc commented that "Tim has enjoyed his time in the automobile business and will continue to expand his growing full-service automated car wash business in the greater Pasco, Richland and Kennewick areas".