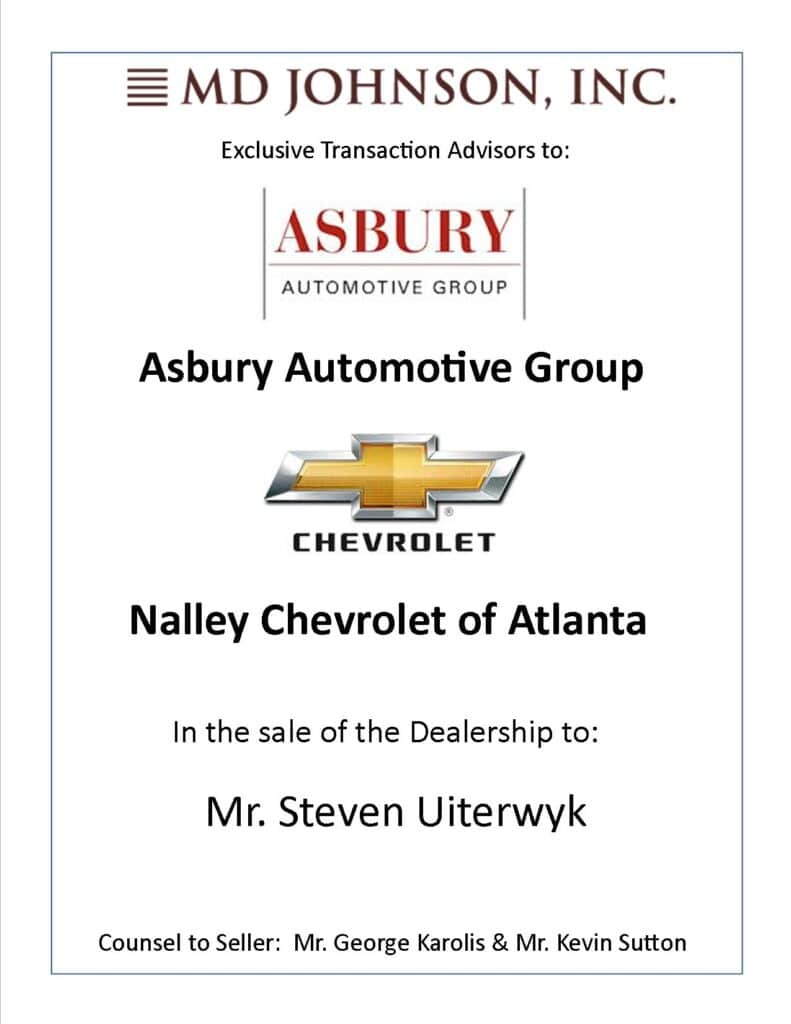 ASBURY AUTOMOTIVE GROUP TO SELL NALLEY CHEVROLET OF ATLANTAMD Johnson, Inc. Serves as Exclusive Financial Advisor to Asbury Auto Group
Description
Atlanta, Georgia- November 10th- Asbury Automotive Group, Inc (ABG) has announced the signing of a definitive purchase agreement to sell its Chevrolet franchise and the lease of the associated real estate to Steven Uiterwyk, for an undisclosed sum. Asbury is one America's largest automotive retailers. The deal is subject to standard factory approvals.
MD Johnson, Inc, served as the exclusive financial advisor to Asbury Automotive Group, Inc (ABG) and initiated, structured and negotiated the transaction on behalf of Asbury. The transaction is anticipated to close in the fourth quarter of 2004, following the completion of General Motors Chevrolet division approval of the transaction.
Asbury is a premier retailer of vehicles and automotive related services in the Atlanta market. Asbury's Nalley platform includes brands such as Lexus and Honda in the Atlanta market. The dealership will remain on the original Nalley site directly inside Atlanta's first beltway, in an established automobile retailing core. Following the acquisition, it is anticipated that the dealership will operate under Uiterwyk's proprietary brand in Atlanta.
George Karolis, VP of Corporate development for Asbury commented that the sale will allow Asbury to concentrate on its other holdings in Atlanta in a time of explosive growth and success for Asbury in its Atlanta based "Nalley" platform.
Asbury recently completed a transaction with MD Johnson, Inc., where MD Johnson, Inc. acted as financial advisors to Michael Johnson in the sale of Rodeo Nissan of Fresno California, to Asbury. Asbury also operates a platform in the Fresno market that has experienced extensive growth.
Uitwerwyk commented that the acquisition of Nalley Chevrolet represented a great opportunity to acquire a well known dealership in a growing market. Uiterwyk further commented that this was the group's first acquisition in the booming Atlanta market.